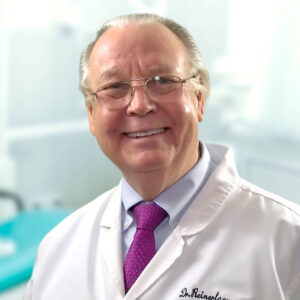 Dr. Chuck Reinertsen, Founder of The Dental Medical Convergence
Dr. Reinertsen started his dental career in 1979 after graduating from the University of Florida's College of Dentistry. After settling his family in Eustis, he opened his family dental practice in Tavares and has been serving the dental needs of local residents for more than 40 years. He and his patients have grown up together.
Dr. Reinertsen has made a priority of continuing education throughout his career and has been a member of the American Academy of Oral Systemic Health for many years. It's not uncommon to hear Dr. Reinertsen say that he's not using the materials or techniques that he learned in school because there are better materials and services now. He encourages his entire team to continually learn and grow to better serve their patients.
Throughout his career, Dr. Reinertsen has volunteered his time and knowledge with the community and in his profession. He has participated in Million Dollar Smiles, Give Kids A Smile, and the Florida Dental Association's program for National Children's Dental Health Month. Locally, he has donated his time and skills to Project Dentists Care of Lake County, a volunteer organization dedicated to providing high-quality care through the Lake County Health Department Dental Clinic. Dr. Reinertsen has also served on the Lake County Dental Society's board in various positions, including president.
In 2021, Dr. Reinertsen founded the charity The Dental Medical Convergence. He aims to raise awareness about the dental–medical divide in this country and give people the tools and education they need to make healthy choices when it comes to their oral health.
Dr. Reinertsen also found time to write a book, "
The Power of a Really Great Smile
" to share stories of patients who have experienced the life-changing effect of improving their smile. As a contributing author, Dr. Reinertsen shared the importance of a great smile in the business arena in a chapter titled "Big Ideas for Your Business," a collaboration featuring authors associated with America's PremierExperts®. These leading experts from a variety of industries provide information and insight to consumers as a public service.
During his personal time, Dr. Reinertsen enjoys spending time with his friends and family, and walking his dog, Bentley. He loves traveling and listening to educational material on the go.